Hello there- it gives me great pleasure to announce the line-up for next Sunday's bash at the Halt Bar. There will be-
THE TUBERIANS
they are an intergalactic underground accordion-led dance band who do this:
there will also be:
BROTHER LOUIS COLLECTIVE
and they do stuff like this:
and also I'm excited about seeing
YUSUF AZAK
and you can find out more about him(including 2 Free EPs for download!) by heading to his
myspace.
Here's picture of him:

and here's the cover of his EP.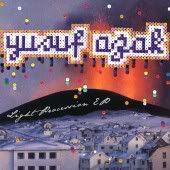 SEE YOU SUNDAY!